Patrick Molard comes from a long and extremely rich tradition of Breton pipers who have embraced the Highland pipe in their native France and helped to expand both the Breton and Highland piping traditions.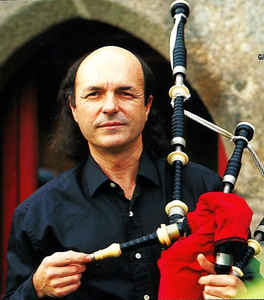 ---
Bruce, I was just having a tune again this morning and wanted to let you know, the reeds just lock in as one sound.

Terrific! My Donald MacDonald drones hardly need any tuning at all , they are rocksteady, and the strike in is perfect.

Great harmonics in both bass and tenors .

I've attached a recording for you. It is my Alexander Glen replica by Pierre Blanchet, they are in the pitch of A, and the reeds I play are the extra long reeds purchased from you some time ago. The A chanter was made by Hamish Moore, and the reed of course is a Frater reed with a practice chanter staple .

The tunes come from Angus MacKay's unpublished manuscript of Ceol beag.
Hi Bruce, received the reeds and the handfree carrier this morning , thank you so much .

I have tried the reeds on my MacDougall set and on my Donald MacDonald replica by Pierre , and the result is fantastic .

So steady , beautiful tone , impossible to guess that it is not cane . I attach 2 recordings , one is with my MacDougall set ( they used to belong to Andrew Frater ) with a Botuha chanter , and the second is my DMcD replica by Pierre with a new Roddy MacLeod chanter which I bought last August .

– Patrick Molard