The following includes some of the interviews I've given as well as events where I've playing or taught. I am still building this section and welcome any media you'd be happy for us to use or link to please email them to me, including a caption of event and date.

Many thanks

– Bruce Hitchings
Interviews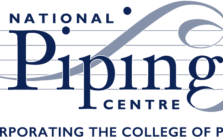 The National Piping Centre undertook an oral history project called "Noting The Tradition". This involved undertaking oral history interviews with people who have been involved in piping at all levels and all over Scotland in the past 50 years. This recording was published September 2012.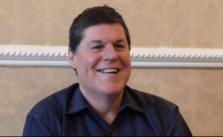 Pipers' Persuasion is a collection of exclusive video interviews with some of the greatest and most influential piping and drumming personalities of the modern era. Allan Hamilton of Kilmarnock is the brains and brawn behind Pipers' Persuasion. A lifelong piper; Allan at his peak played with the world famous City of Glasgow Police Pipe Band, later to become Strathclyde Police Pipe Band.
---
Photos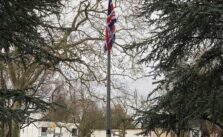 My friend Dietmar Fahrenwald sent me this photo which was taken last weekend when the Duke of Edinburgh's funeral was taking place. It shows the Union Jack at half mast. The photo was taken in front of Dietmar's church, St. George's Anglican, former Garrison Church of the Berlin Infantry Regiment.